Venue/Hotel
The conference will take place at Quality Airport Hotel Gardermoen. The hotel is located in Jessheim, approx. 5 km from Oslo Gardermoen Airport. The Future of Norwegian Seafood Air Logistics 2022 will be held in Brage Ballroom.
The hotel has 455 rooms featuring Scandinavian décor and great facilities to help you enjoy a relaxing stay.  Brasserie X is a good place to come for a great meal and "Granbar" serves a range of delicious drinks.
Convenient outdoor parking is available for a fee.
Check-in time is 15:00 (3:00 PM) and check-out 11:00.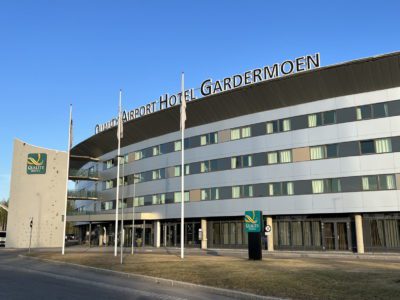 Address
Quality Airport Hotel Gardermoen
Lokevegen 7
N-2067 Jessheim
Norway
Contact details
Tel. +47-63926100
Email: g.gardermoen@choice.no
Transportation
The hotel is located 5 km from Oslo Gardermoen Airport.
Shuttle bus available between hotel and airport terminal : Look for bus S-22
Recommended taxi company: Øvre Romerike Taxi,
phone: +47 03550.
Parking available for 145 NOK per day.
General Information
Time: +2 GMT (summer)
Weight and measures: metric
Visa info: Contact us if you need visa invitation letter
Special conference room rates (per night)
Standard room 995 NOK
Suite – contact hotel
These rates are per room and inclusive of VAT. Room rates include breakfast buffet and free wifi.
Reserve your room now! Send email to q.gardermoen.booking@choice.no and include info on event name, check-in/check-out dates, name, phone number and email
If you encounter problems, contact Euroavia International. Call +46-70-7520753 or email conf@euroavia.com.